The NCAA March Madness is well on its way. Despite the restrictions imposed by the Covid-19 pandemic, both women's and men's competitions are being played with the usual intensity on the court, although much less intense in the stands (up to 25% capacity with physical distancing).
But while the fans cannot support their college teams in the stands, they can certainly do it on social media. In this article we will show where each of the Sweet 16 teams, women's and men's stand on social media, and how much they changed since the competition started.
Total numbers of followers
Let's see how the 16 Men's team and 16 Women's team stand on social media followers. We only looked at Instagram and Twitter, as these seem to be the preferred platforms of the college basketball fans.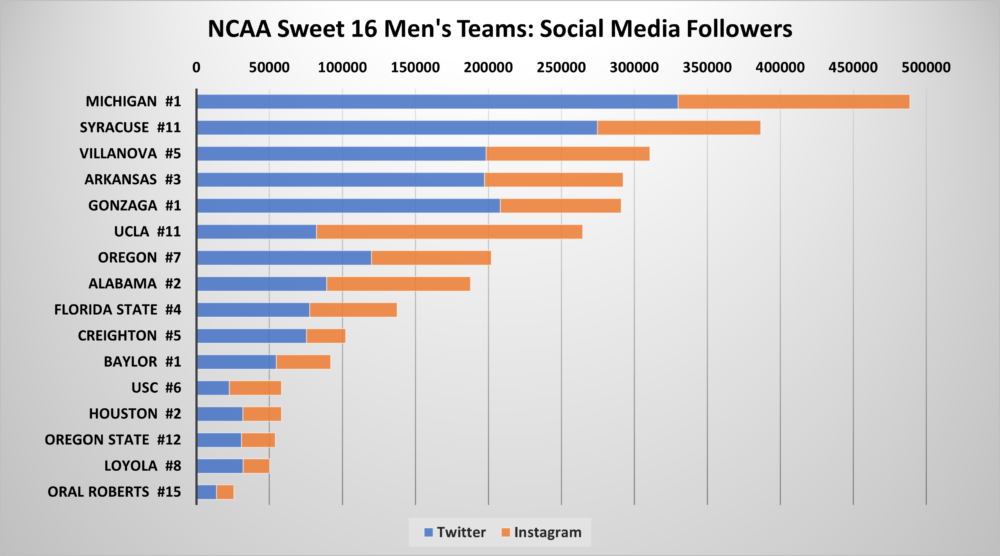 Number 1 Seed, Michigan, has the most followers of all Sweet 16 teams, with almost 489 thousand followers (adding up Twitter and Instagram). In second place comes #11 Seed, Syracuse, with 386 thousand followers. Oral Roberts University, #15 seed, is at the bottom with only 25 thousand followers. As a comparison, a few other teams have much higher social media presence – Kentucky Men's, for example, with almost 800 thousand Twitter followers, did not classify the the NCAA tournament this year.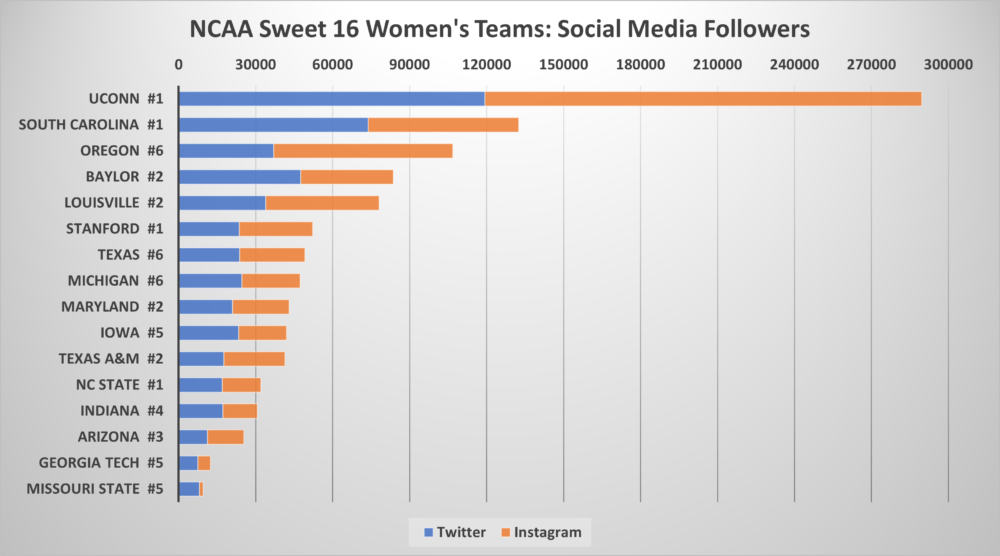 On the Women's side, #1 Seed, UConn is the undisputed social media leader with almost 290 thousand followers (adding up Twitter and Instagram). The other Sweet 16 Women's teams are way behind in social media. In second place comes #1 Seed, South Carolina with 132 thousand followers. Missouri State, #5 seed, is at the bottom with only 9.5 thousand followers.
It's clear that neither seeding nor social media fans will guarantee the team a Sweet 16 position (well, with the exception of UConn's Women, of course).
New followers as the games go on
The NCAA Men's competition has had four remarkable upsets, namely, #15 Seed Oral Roberts, #12 Seed Oregon State, #11 Seed UCLA and #11 Seed Syracuse, reached the Sweet 16 despite their initial odds. Independently of what will happen (at the time of this writing, the competition had not yet played its Sweet 16 round), #15 Seed Oral Roberts University has been the biggest upset, beating #2 seed Ohio State and #7 seed Florida. But, even more surprising, it has been the social media reaction to ORU's performance on the court. Since the 2nd round games, Oral Roberts has gained more followers, both in absolute numbers as well as in percentage gains (when compared to it initial social media numbers), than any other team. The figures below show this very clearly.
Congratulations to Oral Roberts' supporters for being so engaged!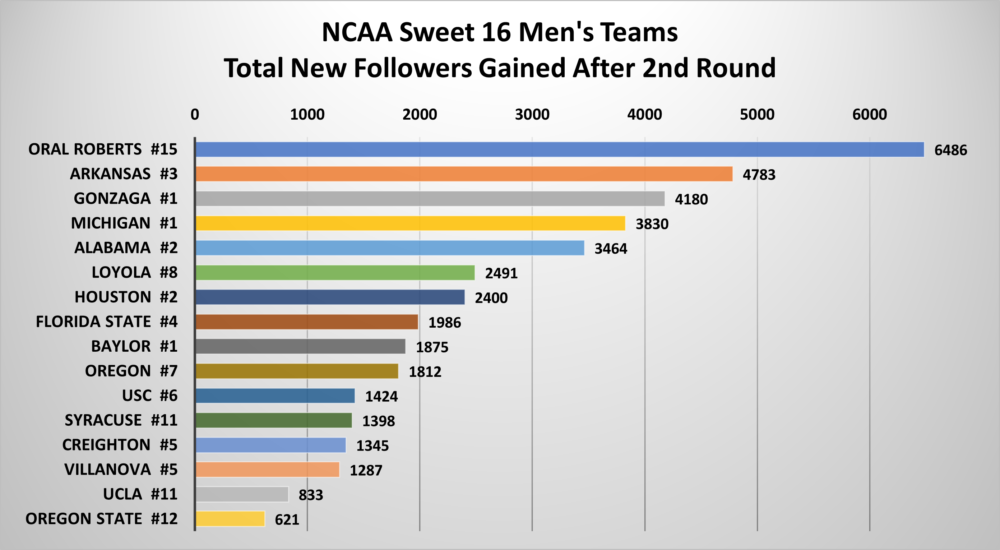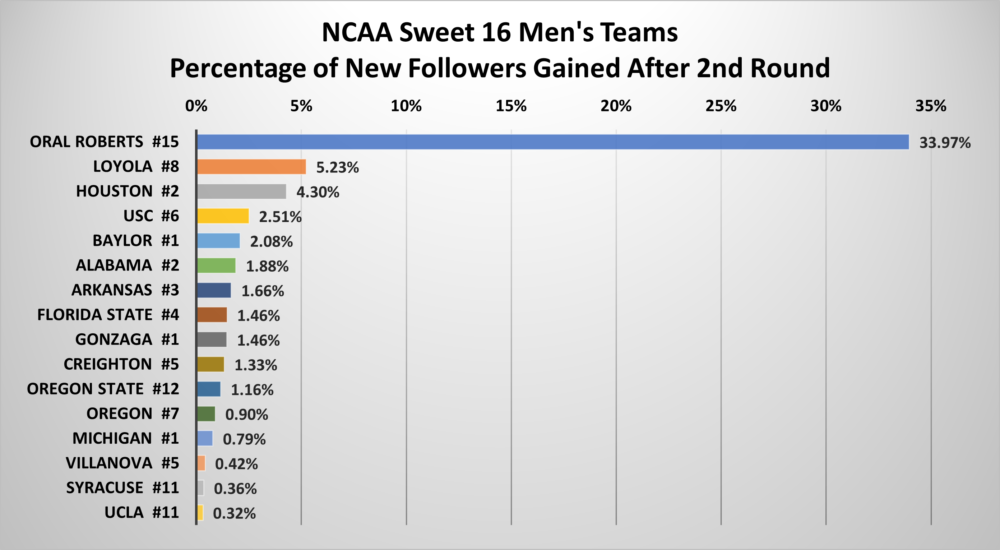 Despite its small fan base (about 25 thousand Twitter and Instagram followers) Oral Roberts performance on the court managed to sway additional 6486 people to follow their social media accounts, an incredible increase of almost 34% over its initial following base, in the span of 5 days.
Other teams, Arkansas, Gonzaga, Michigan and Alabama, managed to get respectable numbers of additional fans, but  percentually a lot less than Oral Roberts, because their initial following numbers were much higher.
The NCAA Women's tournament has not had have major upsets so far – except for #6 Seeds, Michigan, Oregon and Texas reaching the Sweet 16. The team which gained most fans in the period (1st and 2nd rounds) was UConn, with 5194 new followers, followed by Iowa (1597 new followers), Maryland (1390) and Michigan (1380), as shown in the figure below. (Note: we do not have the variation of followers for Oregon and Texas because we could not collect those numbers at the beginning of the competition).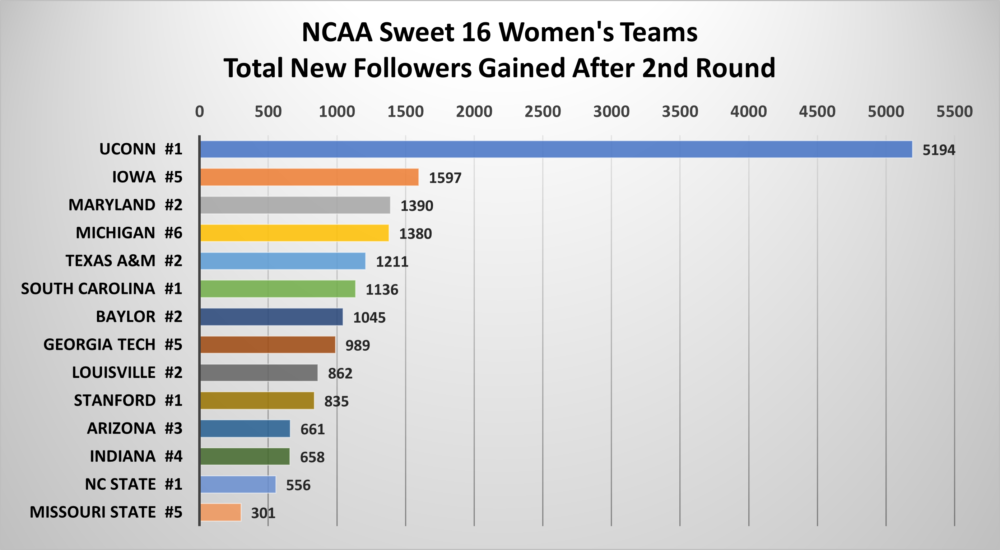 Looking at new followers percentually (over their initial number of followers), the story is a little different, as shown below.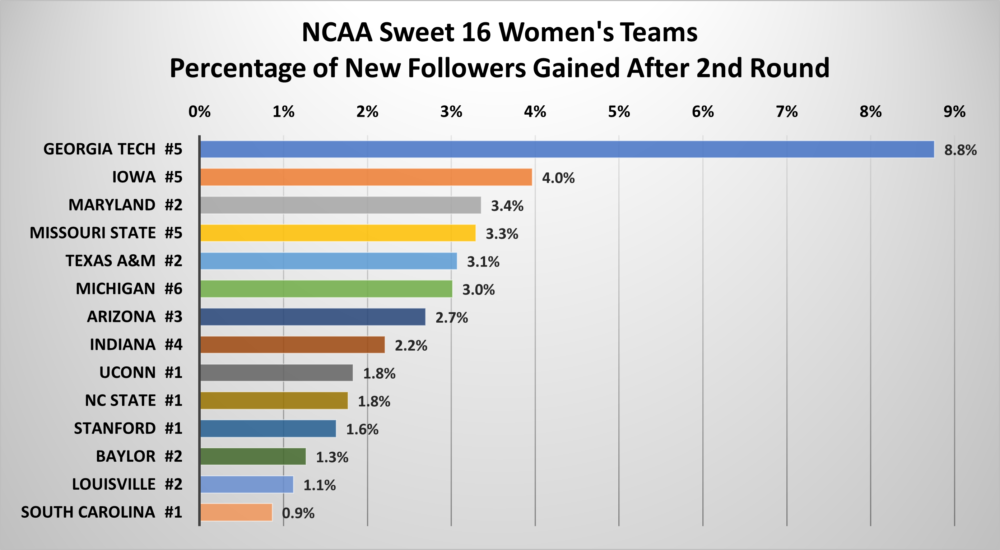 Georgia Tech jumped to 1st place in followers gain as a percentage of initial following, with 8.8% gain. Iowa and Maryland kept they positions as 2nd and 3rd, just as they were in absolute number of followers gained. UConn moved down to 9th place in percentage gain, not surprising given the much larger number of initial followers.
In general, with the exception of Oral Roberts, Loyola and Houston, on the men's side, and Georgia Tech and Iowa, on the women's side, no other team had gains in numbers of followers above 4%.
Should teams invest in social media
The NCAA is all about college athletics, but it is also a money making machine for the athletic programs. Paid attendance at NCAA basketball tournament games has declined from a peak of 800 thousand people in 2013 to 660 thousand in 2019. The 2020 NCAA tournament was cancelled in 2020, and this year attendance was limited to 25% capacity, and games are being held in the same state (Indiana for men and Texas for women).
TV viewership and broadcast rights account for a significant portion of NCAA Basketball revenue.  TV and streaming audiences reached a peak in 2019. Early indications of this year's First Four games tv and streaming audiences are high.
The NCAA will certainly recover from the effects of the pandemic in coming years. Nevertheless, it is clear from this years' social media feedback that all teams have much to gain from engaging a lot more with their followers on social media. First and foremost to keep the interest in the game and their athletics departments thriving, but also, it may become a more significant monetization alternative to the NCAA. Like many other business finding ways to monetize using "in person" and "online" interactions, so should the NCAA teams invest in "in person" and "online" interactions with fans, and use that to the benefit of their athletes and athletic programs.
Cover image by vectorpouch.